Michigan-based Katech Engines recently built the LT5 V8 from a new Corvette ZR1 from the ground up, ditching the supercharger for a custom twin turbocharged setup and on an engine dynamometer, Chevroletís most powerful road-going engine ever made a whopping 1,308 horsepower.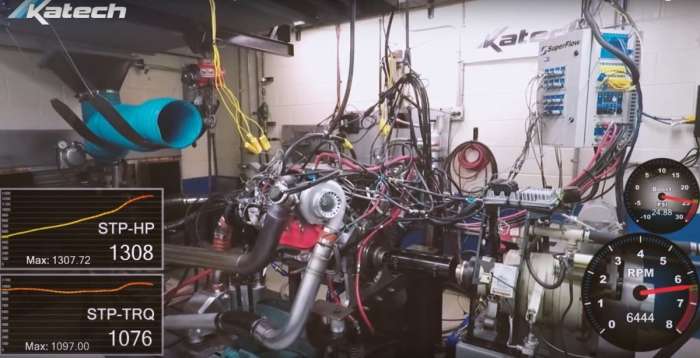 Katech Engines is one of the top shops when it comes to building modern General Motors powerplants, with their most famous customers being the C5.R Corvette race cars that dominated the world of endurance racing. Katech also provides performance upgrades for road-going Corvettes and Camaros, offering race-ready components that yield gobs more Chevrolet horsepower.
Recently, Katech built an LT5 V8 from a 2019 Corvette ZR1 from the block-up, adding a custom twin turbo setup and their in-house fuel system to lift the output from 755 horsepower to 1,308 horsepower on the engine dyno.
Twin Turbo Corvette ZR1 Engine Makes 1,308 Horsepower on the Dyno